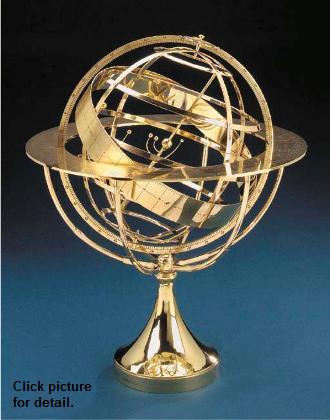 A reproduction brass Copernican armillary sphere, after Jonathon Sisson (1690 - 1747). Sisson was a Mathematical Instrument Maker to His Royal Highness Frederick, Prince of Wales, father of George III (England). He worked at "The Sphere", Corner of Beaufort buildings, Strand, London. In 1731 he made the original of this armillary sphere for the Prince of Wales. It is the only known instrument to have a direct connection with Prince Frederick. It was deposited in the observatory by Queen Charlotte some time in the late eighteenth century. Until recently it was in poor condition, but has been conserved and is now on show in the Science Museum in London as part of the George III collection.
The sphere has a 1 - inch (2.5cm.) diameter brass sunball held on a central rod on the axis of the ecliptic, with the planets Mercury, Venus, Earth with moon, Mars, Jupiter and Saturn, held on revolving spindles from the central rod. The sphere consists of equatorial, two tropic and two polar rings. The engraved meridian circle is divided into four quadrants and graduated in degrees, with an engraved hour dial and pointer. The ecliptic band is graduated in degrees with symbols for the houses of the Zodiac.
The sphere is resting on a rolling brass ball. The horizon ring is graduated in days and degrees and showing the names of the months, the names and symbols for the houses of the Zodiac and the compass directions.
The horizon ring is supported by six supports leading to a tapering stand with plinth base engraved "Copernican Armillary Sphere and Planetarium" and is 30 1/2 inch (77.5cm.) high and weighs over 6 stone (38 kg) Signed Dean R. White fecit Bampton Devonia (and dated).